Oakdale
Oakdale offer some of the most stylish adjustable beds on the market.
Based in Shrewsbury, they have demonstrated their products at the ideal home show in London and the motor show!
Oakdale Adjustable beds are available in all sizes from a single 2'6" bed to a super kingsize 6 foot ajustable bed. Oakdale also supply matresses, pillows, adjustable armchairs and massage chairs. Included in their range is an amazing, beautiful french style Romance adjustable bed. A range of furniture by Frank Hudson is available to match the beds. Oakdale provide what is probably the best looking range of adjustable beds on the market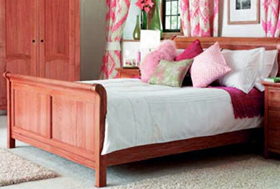 An electric adjustable bed does not need to be an eyesore in your bedroom! Many adjustable beds have been designed not just with useability in mind but also aesthetics.
Oakdale beds in particular have designed their range not just to work well but to look great. Gone are the days when an adjustable bed would make your bedroom look like a ward in the local hospital!
The following manufacture and/or supply electric adjustable beds:
Adjustamatic
Willowbrook
Oakdale
Dreams
Abberley
Laybrook
Mobility King